Categories
Book Categories
Comics Categories
Other Websites
Blog
How to create account - For students
posted by admin. Oct. 17, 2022, 12:39 p.m.
Click on Sign Up in navigation bar on top right corner. On the next screen, choose Student and enter your username/password and email.
An activation email would be sent on your email address. Please click on it and you will be on My Account.
A privacy policy document is the first thing you will see on My Account. Please download this document, ask your parent or legal guardians to sign it. On My Account section, upload this privacy policy document.
Each time you login, you will be on My Account section. My Account section shows My Profile, My Schools, My Courses, My Books, My Files etc. This is where you will see all documents uploaded by you.
Colouring Book Contest for children
posted by admin. Sept. 24, 2022, 8:39 p.m.
Go to the Contest section on the navigation panel. Participate and win cash prizes by coloring the story book - Тhe Lion and the Mouse. You are given the Aesop fable, Тhe Lion and the Mouse, in PDF format with illustrations. Please download the book, color it and send it back to us in PDF format. You can color the images by pencil, crayons, water colors or digitally using any software. The contest is open to children around the world, anyone under the age of 13 years is eligible to participate in this contest. Please register as a student on Baalroom.com to participate in this contest. You will need to upload a signed privacy policy from your parents or legal guardians to upload documents. You can receive help from your parents, teachers or adults in finishing the book provided you handle most of the work.
Baalroom for Teachers
posted by admin. Dec. 7, 2021, 7:47 p.m.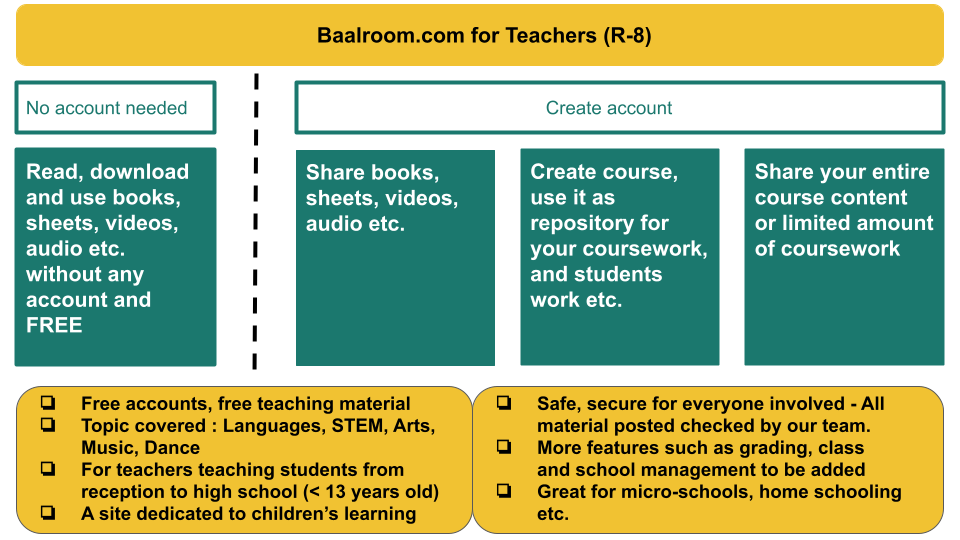 Aesop fables on Baalroom
posted by admin. Nov. 15, 2021, 4:39 p.m.
The timeless Aesop fables are available on baalroom in English, Hindi, Punjabi, Bengali and Macedonian.
Aesop fables are thousands of years old but they haven't lost their relevance. They are short and very easy for young readers to understand their message and the roles of the characters involved. Fables are particular types of fictional stories where main characters are usually animals, but they cover issues emerging from human relations, usually conflict between opposites like good vs evil, humbleness and kindness vs arrogance and meanness, truthfulness vs falsehoods, hard work vs laziness.
Most of the fables have a clear theme and message. They are very easy for kids to understand the plot and analyze the text, because the kids can clearly follow what happens to the characters and come up with conclusions.
Besides for text analysis and discussion, the fables can also be helpful as an introduction to STEAM education, especially for introducing the kids to learn about particular animals, which appear as characters in the fables.
You can use the fables to initiate discussion with your kid or in the classroom and analyze the text about several questions like: Who are the main characters in the fable? What are they like? What do they want? What is their challenge? What happens to them? Why? What can kids learn from the characters' experience?
Since the fable characters are mostly animals you can initiate discussion with your kid or in the classroom about some scientific facts about the animals mentioned in the fable. Where do they live? What do they eat? Have you seen it in real life?
Additionally you can ask your kid or students to make their own illustrations for the fable or even to make their own fable.
Added 2 Hindi books with cool graphics
posted by admin. Nov. 9, 2021, 2:51 p.m.
We just added 2 books in Hindi in PDF format for our users to read, download and print. The first story is
The Fox and the Crow ( लोमड़ी और कौआ )
and the second story is
The Donkey and the Load of Salt ( गधा और नमक का भार )
. Please click on the links to get the books in PDF/html/txt format.
The Tale of Peter Rabbit available in Punjabi
posted by admin. Nov. 9, 2021, 2:42 p.m.
"The Tale of Peter Rabbit" classic e-book is now available in Punjabi (Gurmukhi script). Please click on the link to read and download the book:
The Tale of Peter Rabbit in Punjabi
Uploading files on Baalroom.com
posted by admin. Sept. 17, 2020, 1:13 p.m.
Please give some time for bigger files to upload. Do not click the SUBMIT button multiple times. You will get a notification after some time if the file has been submitted successfully or there is some error.
BaalRoom.com is on Pinterest
posted by admin. June 21, 2020, 12:53 p.m.
Please click on the link below to see our stuff on Pinterest https://www.pinterest.com.au/anamukoska/pins/
Free Books for every kid
posted by admin. June 1, 2020, 7:54 a.m.
One of the aims of BaalRoom is to make free books available to kids around the world. Most of the books that we are currently posting on BaalRoom are free and available in different formats such as text, PDF, mobi etc. The PDF format books are especially great for printing. BaalRoom intends to be THE PLACE for kids books and resources worldwide whether it is US or India or Australia or Europe or Africa.
Sign up Process
posted by admin. April 2, 2020, 2:58 p.m.
The sign up process on BaalRoom is a 2 step process since this website is for children under the age of 13. First, create your username and password on the website. A confirmation email would be sent to email address you entered. Please click on this link to verify your account. Secondly, to post any text, image, video or any other multimedia, please go to "My Account" section and download the privacy policy statement. Please upload the signed privacy policy statement (signed by your parent or legal guardian). Without the signed privacy policy statement, you would not be able to post anything on BaalRoom.
Welcome to Baalroom
posted by admin. April 2, 2020, 2:44 p.m.
Kids can use this website to read books and articles, form bookclubs, write questions and answers, upload homeworks and other assignments, write their diaries, be creative and send us your books and games.
A bit more about BaalRoom
posted by admin. Nov. 12, 2019, 4:55 a.m.
BaalRoom is a website designed specially for kids. This website is COPPA compliant. Only kids or their parents/guardians might currently create an account on the website. In the signup process, an email would be sent with the details about the website. The parents or guardians need to fill up this form before the kids can use BaalRoom. All content posted on the website, whether it is text, images, videos, podcasts, and sound or voice files, would be checked by our admin team before it is publicly available. For safety and privacy reasons, the content created by your kid would remain private unless the kid or parent/guardian decide to make it public. Currently, no direct contact between kids is allowed and kids cannot share any information among each other through this website. The information or content created by kids would remain private or become publicly available if they desire it to be. You do not have to create a username to use BaalRoom. The books, homework sheets etc. are free to download and use without logging in. The website is completely free to use and contains no advertisements. No data is shared with any third party or any advertiser. In future, we might allow banner advertisements that will not use any private data. We might also allow third parties to sell content in future on this website.
Happy New Year
posted by admin. Jan. 11, 2019, 11:35 a.m.
A happy new year to you all !! Have a great 2019 !!
Merry Christmas !!
posted by admin. Dec. 25, 2018, 12:29 p.m.
Merry Christmas to all of you !!!